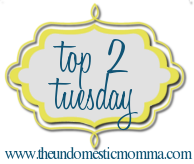 Top Two Songs on My IPOD:
This is my first time linking up, but you should too. Go
HERE
to do so! :]
I have to admit that I haven't listened to my IPOD in FOREVER. This may be due to the fact that I didn't even know where my IPOD was until a few days ago when I found it in my hubby's truck. So, I'll just find two of my favorite songs on good old Youtube:
1. Then by Brad Paisley
This is my wedding song with the love of my life and will always be a favorite! <3
It took me awhile to think of a second song, because I can't say I have another favorite, so I'm just going to post a couple more songs I LOVE (not in any order):
If I Die Young by The Band Perry
Giddy Up by NSYNC
This isn't necessarily my favorite NSYNC song, but I DO love them! I went to three of their concerts when I was younger and find myself wishing they put on a reunion tour. We also worked out to this song in Jazzercise today so that brought back my love for this song!
Country Grammar by Nelly
Again, this isn't my favorite song but it does bring back memories. I pretty much love ALL genres of music and especially love being reminded of my youth and my family. My brother always played this song when we were younger and it's just crazy to think how much we've grown since then. AND it's crazy to think I listened to this song when I was little. I had NO idea what they were saying or referencing, thank goodness.
I hope you enjoyed some of my flashbacks and that you got your groove on with a few of these songs. :]